Lucy Maud Montgomery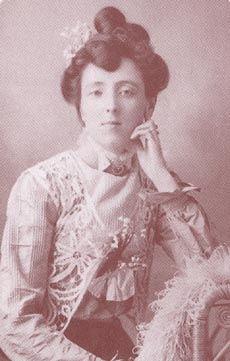 Lucy Maud Montgomery (Wikipedia article) lived from November 30, 1874 to April 24, 1942 and is best known as the author of Anne of Green Gables and related books. She also wrote a few other stories which are included here.
Books on Anne Shirley:
The Anne Shirley books are presented here in chronological order with her ages shown. Also shown are the dates of publication. Since Anne of Windy Poplars and Anne of Ingleside were published after 1923, they are still under copyright.
Anne of Green Gables published 1908, Anne is 11 to 16 (614K)
Anne of Avonlea, 1909, age 16 to 18 (537K)
Anne of the Island, 1915, age 18 to 22 (479K)
Anne of Windy Poplars, 1936, age 22 to 25
Anne's House of Dreams, 1917 age 25 to 27 (487K)
Anne of Ingleside, 1939, age 34 to 40
Rainbow Valley, 1919, age 41 (492K)
Rilla of Ingleside, 1920, age 49 to 53 (618K)
Related Books in which Anne Shirley plays a lesser part:
Other Books